If you're pregnant and due to have a baby in the next few months, I'm sure you've been getting everything ready for your newest addition. Once the nursery is done and you have all of the finishing touches completed, it's time to think about the baby gear. You'll want a stroller that is lightweight and compact, yet stylish and easy to fold when on the go. As for your baby's swing, you'll want something that is safe, reliable, and comfortable for your little one. This is where Graco steps in.
Graco
is the headquarters for everything and anything you could need for baby. This brand is surely one of the few that instantly come to mind when I think of baby products. Graco's product line-up includes strollers, high chairs, pack 'n plays, car seats, swings, and more. The best part about Graco is that their products transition with your child as they age and grow, so you really get many years of use from them. If you're attending a baby shower in the next few months or know someone who has recently given birth, a Graco product makes the perfect present.
The brand that starts with G has been a favorite in our household for a long time now. All of Scarlett's baby gear was Graco and we wouldn't have it any other way! I trust the brand immensely and would highly recommend it to anyone.
When Scarlett was a newborn, our Graco swing was a lifesaver. It would calm her down when she was fussy and crying, plus she loved to hang out in it. It was used day and night for a solid 6 months and was truly a workhorse.
When I heard about Graco's
DreamGlider,
I knew it would be the ideal swing for when I have a second child very soon. It comes unassembled, but can be easily assembled in no time. The unit comes in a few different color patterns, depending on your preference.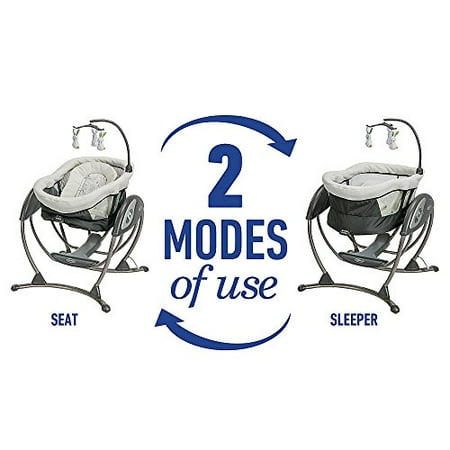 The Dream Glider is the only swing that easily converts from playtime to nap time. Baby will love the gliding swing seat that doubles as a sleeper. They will be soothed with the same gentle motion of a nursery glider, the seat will easily recline into a sleeper with a pull of a lever. You can use batteries or plug the glider in depending on your choice. With a toy mobile bar, 10 melodies and 5 nature songs, what's not to love about this swing? Parents will be able to choose from 6 gliding speeds that allow you to find the right pace for baby's needs.
You can securely strap your baby into the glider with the 3 point harness for a nap, or they can sit up and watch you. Since the glider doesn't take up much room and is lightweight, you can easily transport it from room to room when needed.
The DreamGlider is fantastic and hopefully my second child will enjoy it just as much as my first. I'm sure seeing the glider in my living room will bring back memories!
If you're on the fence about what glider to buy or register for, this should be at the top of your list. You'll be recommending it to other parents in no time!
*DISCLOSURE* Thank you to Graco for providing a product sample in order to facilitate this post. All thoughts are strictly my own