It's that dreaded time of year where sickness is all around us. Cold and flu season is no joke and it's mandatory that you do whatever you can to protect yourself from sickness. In the colder months of the year I seem to always have a sore throat and cold without fail. I'm always researching home remedies to cure that pesky sore throat. Wouldn't it be nice to skip the sickness this year and feel great instead?

Go Gargle
soothes and moisturizes a sore throat like no other. Go ahead and drop a tablet in a glass of warm water, let it dissolve, then gargle your sore throat away. Most sprays or drops just mask the pain, but the healing power of salt featured in Go Gargle works to reduce inflammation. The honey, aloe, and chamomile soothe throat tissue and provide long lasting relief. Did you know that each year over 15 million people visit a doctor for a sore throat? Don't let that statistic include you this year. Keep Go Gargle with you anytime your throat needs some attention. Your medicine cabinet will be thrilled to meet its newest family member.
There's nothing quite like the pain from a sore throat. When your throat feels like it's on fire and you have difficulty swallowing, all you can do is hope for instant relief. Cold water or ice cream can provide some relief, but it's only temporary. You need to get to the root of the sore throat and kick it to the curb.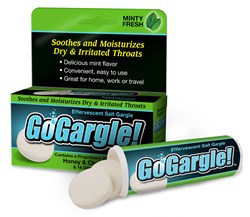 When I had the opportunity to try Go Gargle, I knew it was something that I couldn't pass up. Conveniently when it came in the mail yesterday, I was suffering from a sore throat. The timing of the package's arrival couldn't have been better. I was very excited to try the product and hopefully receive some much needed relief.
I dropped a tablet in a glass of warm water as instructed and watched the fizzy action that followed. The fizz was the key component in reducing the inflammation in my throat and I was thrilled to see it. The tablet provided a minty flavor which was pleasant, but not overly strong at all. Once I gargled, my throat instantly felt moisturized thanks to the honey, chamomile, mint, and aloe. Not long after I felt so much better and couldn't believe how quickly the product worked. I was impressed and wondered why this product hadn't been in my life all along. Gargling is a time tested remedy that truly works, but people turn to medicines instead because they think they will work better. I'm guilty of this as well but will not depend on sore throat medicines any longer. Go Gargle now has a special place in my bathroom cabinet for anytime my husband and I might need it.
The tube of Go Gargle contains 10 tablets that you can throw in your purse for work or school, or in your carry on bag for traveling. The convenient tube is small enough to be taken virtually anywhere you need it.
Any time I have a sore throat in the future, you can guarantee I'll be turning to Go Gargle. If you want to make your throat smile, it's time to introduce Go Gargle to it.