When you have a sick baby the only thing you want to do is make them feel better. Trying to take a child's temperature can be a real challenge especially if they fight it. You know that monitoring their temperature if it keeps rising is paramount for their safety. Wouldn't it be nice if you could have an accurate reading without disturbing them? Let your temperature dreams now become a reality.
Exergen
is the creator of the first temporal artery thermometer. This thermometer is the leader in industrial and medical temperature technology. It's time to throw out those old under-the-tongue thermometers, they are truly a thing of the past. Technology has evolved and advanced leaving us with products that make being a parent easier. The Exergen temporal artery thermometer gives an accurate temperature with a gentle forehead scan. In seconds a digital reading appears on the screen of the thermometer. It's fast, accurate, and best of all non-invasive. The thermometer is #1 pediatrician preferred and the method of choice of premier hospitals. You won't have to worry about fighting with your child or sick baby to get a confirmed reading anymore. Moms' you know this is a big plus in your book! The thermometer is an essential item that every parent should own. Go ahead and put one in your bathroom drawer today.
Now that my daughter is due in just 11 (or less!) short weeks, I know that I'll eventually have to deal with a sick baby. I can only imagine how I'll be the first time she's sick, especially since I have no prior experience. I'm sure I'll be nervous and concerned! I'll feel much more confident to take her temperature with the temporal artery thermometer, since I won't feel like I'm hurting her. The temporal artery is directly connected to the heart via the carotid artery. It has the constant blood flow needed for accurate measurement, and provides the safest and most comfortable place for measuring temperature.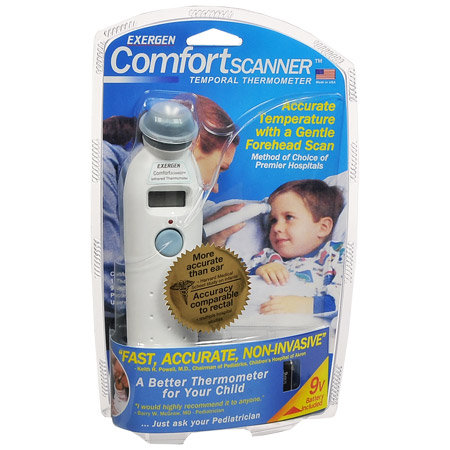 To take a child's temperature, all you do is press and hold the button and lightly scan across their forehead. You then release the button to read the temperature reading. A wonderful feature of the product is the soft-glow display. You can take a sleeping child's temperature in the dark and not disturb them, which is wonderful. The lit display will display the temperature, but don't worry it's not bright enough to wake them up. If you want to keep track of past readings, the product has an 8 temperature memory so you can make sure the number doesn't keep going up. The programmable beeper and also programmable F or C reading is very handy.
The unit is compact enough to easily fit in a bathroom drawer or cabinet, or in a purse for on-the-go use. I know I'll need this in the near future and will feel confident in taking my daughter's temperature!
*DISCLOSURE* Thank you to Exergen for providing me with a complimentary thermometer in exchange for this review. All thoughts are my own.