There's nothing like the scent of Gain laundry detergent. One sniff and you will be magically transformed onto a beautiful tropical island where you'll be sitting beach side with a butler to attend to your every need. Just kidding, but imagine if a smell can do that, what can Gain do to your clothes? :)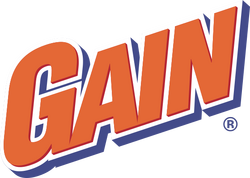 Gain
offers a variety of laundry care items including: laundry detergent, fabric softener, and dryer sheets. Gain recently introduced a dish washing liquid as well. There's even Gain with a Febreze scent! Over the past few years, Gain has included new scents in their products such as Spring Awakening, Outdoor Sunshine, Apple Mango Tango, Hawaiian Aloha, Island Fresh, Dazzle and Shine and more. Every scent will leave your clothes smelling amazing!
I've been using Gain for years and always enjoy using a new scent to wash my clothes with.
When I had the opportunity to review a new Gain Scent detergent, I took my time in deciding. I was sent a strip with the new Gain scents on them to figure out which scent I wanted to review. I finally decided on Hawaiian Aloha. I knew the scent would not only smell delicious but remind me of a fantastic Hawaiian trip too!
The one thing I love about Gain is that the color of the bottle has remained the same over the years. It's always been that recognizable bright green color. I grew up with Gain and it's a laundry detergent that I rely on and trust.
The pink label and flowery graphics certainly catch your attention. The detergent came at just the right time since I ran out of my last bottle of Gain. I loaded up my clothes in the washer and prepared for my clothes be instantly transformed to Hawaii! I opened the bottle and took a big whiff of the magical liquid. It smelled very sweet and floral. The febreze that the detergent contained provided a nice clean element as well.
The detergent washed my clothes well and thoroughly. As soon as I took them out of the washing machine, the aroma of the detergent instantly blanketed my senses like a warm summer day. Even a day after putting my clothes away the Hawaiian Aloha scent remained. This detergent will surely be my new go-to scent. I absolutely love it! Thanks to Gain my clothes always smell delicious and look their best.
*DISCLOSURE* I received a complimentary bottle of Gain in exchange for the review. All thoughts and opinions are strictly mine and not based on anything else.