Showers are extremely relaxing. There's times that I just want to stay in there for hours. What's better than letting warm water beat down on you while you think about what you have to do for the day? Sometimes you don't want to stand though, it's much nicer to lay down and take a bath. If you don't want to take a bath, there's no other alternative for sitting down. The Butt Bench will change your shower experience from now on!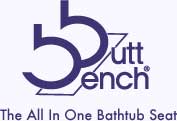 The Butt Bench
is a safe bathtub seat/storage bench that requires no installation. It simply attaches by suction cups to your shower walls. The bench is sturdy and made of natural wood. The tub seat supports your weight with no problem.
I think the Butt Bench would be a great new addition to any shower! I chose white and it blends in well with the rest of my shower and looks great!
The shower seat easily and securely attached to my shower walls with no issue. It fit in my shower perfectly and the length was just right. I used it for the first time today. It was nice to sit down while taking a shower and enjoy it. I deep conditioned my hair and sat down and waited the 5 minutes before rinsing it out. This was much easier, unlike before where I had to stand up and wait away from the water. It supported my weight with no problem and was still easily adhered to the shower walls when I sat on it.
Why not turn your shower into a sauna and sit down and enjoy the steam and water? When you're not sitting on it, the shower seat also makes a great extra storage ledge to store shampoo, body wash, or other bath products on it. It's perfect for sitting down and shaving too. Ladies, you won't cut your legs anymore like you usually do when standing up! I think the shower bench is a great new addition to my shower and I can definitely see myself using it each time I shower!
*The Butt Bench does not work in mobile homes or showers with glass sliding doors.
GIVEAWAY RULES:
1. I will be picking ONE (1) winner for this contest. One winner will win a Butt bench in their chosen size and color.
YOU MUST DO THIS FIRST or all other entries will be DELETED!
2. Please tell me why you'd like to add Butt Bench to your shower. (1 entry)
BONUS ENTRIES
3. Subscribe by Email and Confirm that Subscription (1 entry)
4. Subscribe to Sammi's Blog of Life in a Reader (1 entry)
5. Follow me on Blogger. (1 entry)
6. Follow me on Twitter (www.twitter.com/pinkice88) (1 entry)
7. Leave a Tweet and the direct link to that tweet (1 entry) (You can do this daily)
8. FOR 5 EXTRA ENTRIES - Blog about this giveaway with a link to my blog and come back and leave the link to your blog post. Post FIVE separate comments that you've blogged about this.
9. Add my main button to your sidebar (if it's already there, let me know that! Leave link to your blog.) (1 entry)
10. Add Sammi's Blog of Life to your blogroll (using my URL), with a link back to me! (1 entry)
11. Become a fan of my Facebook fan page for 1 entry (https://www.facebook.com/pages/Sammis-Blog-of-Life/307593407356)
12. Like Butt Bench on Facebook for 1 entry (http://www.facebook.com/buttbench1)
13. Like Butt Bench on Twitter for 1 entry (http://twitter.com/buttbench)
Winner will be chosen on February 4, 2012 at 10 pm and then will be emailed.
One entry per day.
Alternate winner will be chosen if winner does not respond after 48 hours. Thank you and good luck!
Disclaimer-
I was provided a product in exchange for my review. All thoughts and opinions are strictly mine and not based on anything else.
You can read more about my blog policies in my disclaimer.
Sammi's Blog Of Life Follows All New FTC & Facebook Laws for Reviews & Giveaways.
IF YOU DO NOT CORRECTLY ANSWER MY CONTEST QUESTION, YOUR COMMENT WILL BE IMMEDIATELY REJECTED.