When I get migraines, they are completely awful. I basically have to shut myself in a dark room with no light or sound and hope they go away relatively quickly. Migraines are awful and I don't wish them on anyone. I can have a migraine last anywhere from an hour to 5 hours. It's not fun at all, especially when you're at work or out. I make sure to always take Excedrin as it rapidly decreases the timeframe of my migraine. Some migraines that I get are better than others, but generally they are terrible.
Excedrin
is an over-the-counter headache pain reliever, typically in the form of tablets or caplets. It contains acetaminophen (paracetamol), aspirin, and caffeine. It is heavenly headache relief in the form of a small tablet. Excedrin is the first non-prescription medicine approved by the FDA to treat all the symptoms of a migraine. I rely on Excedrin for relief and it's the only medicine I will take for a migraine.
Nearly 30 million Americans deal with migraines on a regular basis and they are three times more common in women than men. How do you deal with migraines? Have you suffered with them for years or do you get them every now on then? How do you find relief if you're at work or not at home? What are your quick-relief tips? Do certain scents or smells trigger migraines for you? Or maybe you try to activate trigger or pressure points to decrease the pain. I'd love to hear how you all deal with them.
I find that taking Excedrin at the first inkling of a migraine helps it to go away quicker than waiting to take the medicine while it has already started.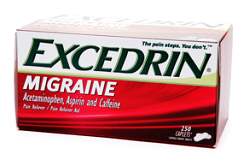 Did you know:
More than three-quarters (87%) of working Americans would give up something for an entire year to never have to go through the pain of a migraine ever again.
Eight in ten (83%) migraine sufferers confess that when they have a migraine, their family suffers as much as they do because of the impact it has on their ability to go about their regular routine.
Migraine Tips and Prevention Techniques
There are many different ways to manage migraines. There is no simple solution and every treatment plan should be individualized.
Perhaps the most important tool in tracking migraines is a migraine diary. It is used by doctors to track potential triggers and patterns related to your migraine. It helps you track food you eat when migraines occur, duration of migraines, type of pain, amount of sleep, etc.
Aerobic exercise has been shown to make an appreciable difference in reducing migraines and promoting a general sense of well-being. Even if you walk only 15 to 20minutes.
Drinking plenty of water will help you keep hydrated and can help prevent the frequency of migraine incidents.
And, when migraine pain does set in, consider finding a quiet place to rest, applying a cool compress to the back of your neck.
Talk with your doctor about an over-the-counter pain reliever like Excedrin® Migraine, which starts to relieve migraine pain in 30 minutes.
For more tips and insights, please visit www.execedrin.com/migraine.
Excedrin® Migraine and the National Headache Foundation teamed up to conduct a survey* that brings to light just how much people with migraines suffer – and how eager they are to lessen the pain and reduce the disruption in their lives. And what's even more remarkable are the trade-offs people would make if they didn't have to endure the pain of a migraine.
For example, did you know that:
The average migraine lasts for 12 hours for those who don't take any medication
Nearly two-thirds (61%) of adult migraine sufferers would willingly wait in a long line rather than suffer from migraine pain
A third (33%) would give up five percent of their annual salary
Other workers would toss their vacation days (26%) or weekends (17%)
And more than half (52%) would rather visit in-laws
Excedrin would like to relieve your headache with a fabulous gift basket!
The basket includes:
A therapeutic neck wrap that can be heated or frozen
Swarovski Crystal Ear Buds to listen to relaxing music
A soothing gel eye mask
$15 iTunes gift card to purchase relaxing tunes
$50 American Express gift card for additional stress-free needs
Foot massager
Back massager
GIVEAWAY RULES:
1. I will be picking THREE (3) winners for this contest. Three winners will win a gift basket from Excedrin.
YOU MUST DO THIS FIRST or all other entries will be DELETED!
2. Please tell me how you deal with migraines and how you find relief. (1 entry)
BONUS ENTRIES
3. Subscribe by Email and Confirm that Subscription (1 entry)
4. Subscribe to Sammi's Blog of Life in a Reader (1 entry)
5. Follow me on Blogger. (1 entry)
6. Follow me on Twitter (www.twitter.com/pinkice88) (1 entry)
7. Leave a Tweet and the direct link to that tweet (1 entry) (You can do this daily)
8. FOR 5 EXTRA ENTRIES - Blog about this giveaway with a link to my blog and come back and leave the link to your blog post. Post FIVE separate comments that you've blogged about this.
9. Add my main button to your sidebar (if it's already there, let me know that! Leave link to your blog.) (1 entry)
10. Add Sammi's Blog of Life to your blogroll (using my URL), with a link back to me! (1 entry)
11. Become a fan of my Facebook fan page for 1 entry (https://www.facebook.com/pages/Sammis-Blog-of-Life/307593407356)
12. Follow Excedrin on Twitter for 1 entry
(http://twitter.com/#!/excedrin)
13. Like Excedrin on Facebook for 1 entry
(https://www.facebook.com/excedrin?sk=app_295189983839765)
Winner will be chosen on December 14, 2011 at 10 pm and then will be emailed.
One entry per day.
Alternate winner will be chosen if winner does not respond after 48 hours. Thank you and good luck!
Disclaimer-
This is a sponsored post. Migraine relief and relaxation kit were provided by Novartis Consumer Healthcare, the makers of Excedrin® Migraine; my journey for a migraine free experience is my own.
You can read more about my blog policies in my disclaimer.
Sammi's Blog Of Life Follows All New FTC & Facebook Laws for Reviews & Giveaways.
IF YOU DO NOT CORRECTLY ANSWER MY CONTEST QUESTION, YOUR COMMENT WILL BE IMMEDIATELY REJECTED.