There's nothing like the scent of Gain laundry detergent. One sniff and you will be magically transformed onto a beautiful tropical island where you'll be sitting beach side with a butler to attend to your every need. Just kidding, but imagine if a smell can do that, what can Gain do to your clothes? :)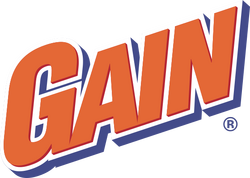 Gain
offers a variety of laundry care items including: laundry detergent, fabric softener, and dryer sheets. Gain recently introduced a dish washing liquid as well. There's even Gain with a Febreze scent! Over the past few years, Gain has included new scents in their products such as Spring Awakening, Outdoor Sunshine, Apple Mango Tango, Lavender and more. Every scent will leave your clothes smelling amazing!
I was sent two Gain products for review. I received Gain lavender scented laundry detergent and Gain lavender scented fabric softener.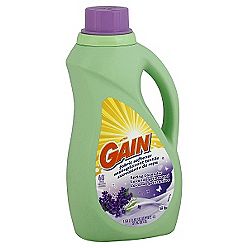 I did laundry this weekend and used my new fabulously delicious smelling Gain products to make my clothes look and smell terrific. I love the packaging of both bottles, they just instantly make you happy and put you in a cheerful mood.
From the second I unscrewed the laundry detergent cap, the lovely aroma of lavender wafted up and it smelled just amazing! The fabric softener also smelled just as good as the detergent. I poured both the softener and detergent into my washing machine and prepared to let my clothes get happy and enrobe themselves in the wonderful lavender scent.
Once my clothes were done washing, I realized two things. The scent of the lavender actually stayed on my clothes! I've used yummy scented detergents before and the scent didn't transfer to my clothes which disappointed me. Secondly, the softener made my clothes soft and very easy to fold which was a big plus to me. The scent truly lasts too! I wore a shirt today that I washed on Saturday and when I went to put it on this morning, it still smelled like lavender! Wow! That put me in a good mood.
I've been using Gain for years and I love how it's such a stand up product. I've never had any issues or complaints with the brand and I will continue to use them for years to come. Not only does Gain leave my clothes very clean, but also smelling awesome as well. Thanks Gain!
GIVEAWAY RULES;
1. I will be picking ONE (1) winner for this contest. One winner will win a bottle of Gain lavender scented fabric softener and lavender scented laundry detergent.
YOU MUST DO THIS FIRST or all other entries will be DELETED!
2. Please tell me why you'd love to win these Gain laundry care products. (1 entry)
BONUS ENTRIES
3. Subscribe by Email and Confirm that Subscription (1 entry)
4. Subscribe to Sammi's Blog of Life in a Reader (1 entry)
5. Follow me on Blogger. (1 entry)
6. Follow me on Twitter (www.twitter.com/pinkice88) (1 entry)
7. Leave a Tweet and the direct link to that tweet (1 entry) (You can do this daily)
8. FOR 5 EXTRA ENTRIES - Blog about this giveaway with a link to my blog and come back and leave the link to your blog post. Post FIVE separate comments that you've blogged about this.
9. Add my main button to your sidebar (if it's already there, let me know that! Leave link to your blog.) (1 entry)
10. Add Sammi's Blog of Life to your blogroll (using my URL), with a link back to me! (1 entry)
11. Become a fan of my Facebook fan page for 1 entry (https://www.facebook.com/pages/Sammis-Blog-of-Life/307593407356)
12. Become a fan of Gain on Facebook for 1 entry.
(https://www.facebook.com/gain)
Winner will be chosen on September 3, 2011 at 10 pm and then will be emailed.
One entry per day.
Alternate winner will be chosen if winner does not respond after 48 hours. Thank you and good luck!
Disclaimer-
I was provided a product in exchange for my review.
You can read more about my blog policies in my disclaimer.
Sammi's Blog Of Life Follows All New FTC & Facebook Laws for Reviews & Giveaways.
IF YOU DO NOT CORRECTLY ANSWER MY CONTEST QUESTION, YOUR COMMENT WILL BE IMMEDIATELY REJECTED.