Laundry is important to me. I like to have my clothes looking as best as possible. I use various producs for stain removal, freshness, etc. I feel it's important to always have your clothes looking great. I love to frequently try new laundry products too. Anything that makes doing laundry easier for me is awesome in my book! :)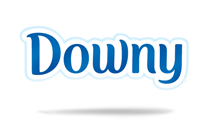 Downy
is all about helping you feel more: more from your fabrics and in the moments in life that matter most. For more than 50 years, Downy has provided fabric softeners that awaken the senses so you feel as much on the outside as you do on the inside.
Bounce
has been creating laundry care products for years. You might know them from their laundry detergents, fabric softeners, and more. They keep your clothes looking fresh and clean!
Downy Wrinkle Treatment - Just spray, tug, and smooth any time you need to quickly reduce unsightly wrinkles. No iron needed. - It s time you discovered Downy Wrinkle Releaser, the spray that smoothes out wrinkles in seconds, giving clothes a light, airy fresh feeling. - Downy Wrinkle Releaser relaxes fibers to help release wrinkles, while also leave clothes with incredible softness. - Relaxes fibers to smoothe out wrinkles in seconds - Freshens with light, subtle scent - Also works on dry-clean-only fabrics

Bounce™ Ironing Spray, a spray starch alternative, not only makes ironing easier, but also helps prevent wrinkles from returning.
•Removes wrinkles while ironing and provides a clean, pressed look like starch
•No clogging, flaking, and residue found with standard spray starches
•Patented polymer formula helps prevent wrinkles from returning
•All with the added scent of Bounce® Outdoor Fresh™
With these products laundry will become less of a chore for you!
GIVEAWAY RULES:
1. I will be picking ONE (1) winner for this contest. One winner will win a Downy wrinkle releaser spray and a Bounce ironing spray.
YOU MUST DO THIS FIRST or all other entries will be DELETED!
2. Please tell me why you would love to win these laundry products. (1 entry)
BONUS ENTRIES
3. Subscribe by Email and Confirm that Subscription (1 entry)
4. Subscribe to Sammi's Blog of Life in a Reader (1 entry)
5. Follow me on Blogger. (1 entry)
6. Follow me on Twitter (www.twitter.com/pinkice88) (1 entry)
7. Leave a Tweet and the direct link to that tweet (1 entry) (You can do this daily)
8. FOR 5 EXTRA ENTRIES - Blog about this giveaway with a link to my blog and come back and leave the link to your blog post. Post FIVE separate comments that you've blogged about this.
9. Add my main button to your sidebar (if it's already there, let me know that! Leave link to your blog.) (1 entry)
10. Add Sammi's Blog of Life to your blogroll (using my URL), with a link back to me! (1 entry)
11. Friend me on Facebook for 1 entry.
12. Become a fan of my Facebook fan page for 1 entry (http://www.facebook.com/pages/Sammis-Blog-of-Life/307593407356)
Winner will be chosen on August 5, 2011 at 10 pm and then will be emailed.
One entry per day.
Alternate winner will be chosen if winner does not respond after 48 hours. Thank you and good luck!
Disclaimer-
I was provided a product in exchange for my review.
You can read more about my blog policies in my disclaimer.
Sammi's Blog Of Life Follows All New FTC & Facebook Laws for Reviews & Giveaways.
IF YOU DO NOT CORRECTLY ANSWER MY CONTEST QUESTION, YOUR COMMENT WILL BE IMMEDIATELY REJECTED.