I really love lockets. I've never owned one myself, but have always admired ones that I've seen in stores. I think they are such timeless and classic pieces of jewelry that will never go out of style. I love that you can put a picture inside of your loved one or just something that is special to you in it. Lockets come in so many different shapes and styles that appeal to everyone. Maybe you'd like to engrave a special saying or meaning on the inside too?
The Pretty Peacock
offers personalized, custom, artisan-crafted keepsake jewelry for mothers, grandmothers, and more. Each piece takes a month to create and the dedication and hard work devoted to creating each gorgeous piece of jewelry is evident.
Mother's Day is coming up, here's some great gift ideas for mom on this special day from The Pretty Peacock.
I fell in love with the glass lockets and knew I just had to review one. I've never seen anything like it before, they were so pretty. I ended up choosing the Portal ~ Round Bling Birthstone Pendant. I put a sapphire and emerald stone inside. Sapphire is my birthstone, but I also like emerald and thought the two colors would look nice together.
The package came within just days after placing my order. I love fast shipping! It came beautifully wrapped in pink tissue paper, tied with black string, and adorned with a peacock feather. I loved the packaging. When you receive an item that is wrapped carefully and made to look really nice, it really makes a difference.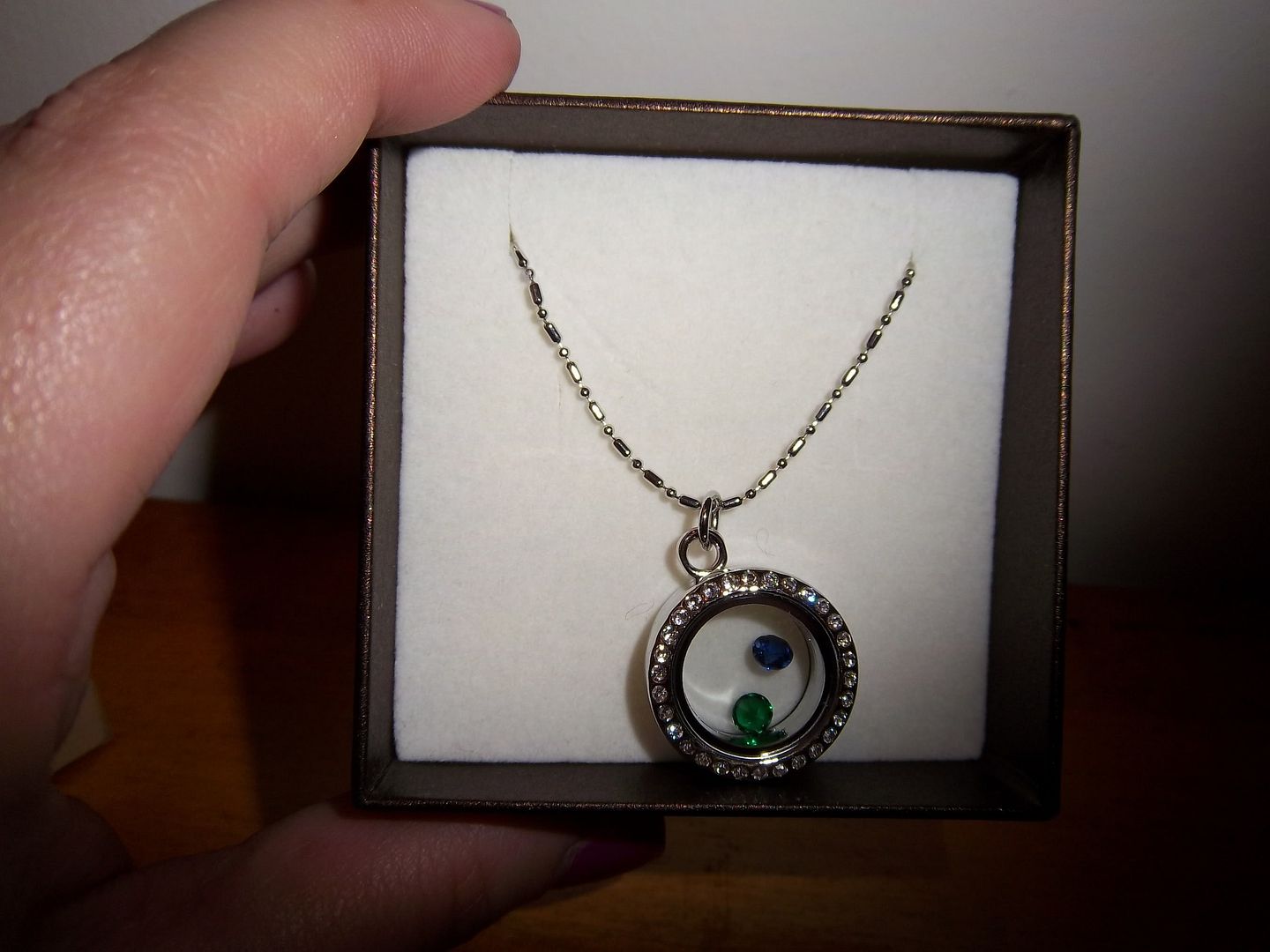 Isn't it just beautiful?
This little beauty of glass and plated rhodium* is 3/4" at the widest point. Two, perfect-in-every-way lab grown birthstones come with the listed price - additional stones can surely be added (this locket can hold up to 10)
This gift would be perfect for a mom or grandma to display her children or grandchildren's birthstones with. The locket easily opens and you can change the stones as you wish. The stones move inside the locket, they are not in a fixed position. I love the round shape of the necklace, it's my favorite part. The rhinestones are very pretty and give the necklace a nice little added bling too. The locket easily opens and closes, but stays closed very tightly. The silver is high quality and shines nicely.
I love that this is such a unique and untraditional locket. It's so modern and fun. The necklace is comfortable to wear and has an adjustable chain for desired length. The birthstones are very vibrant and rich in color and I love the size of them. They are small, but not so tiny that they are not visible inside the locket. I can definitely see myself wearing this on a daily basis. It's a necklace that would go with whatever you're wearing, no matter the outfit or colors.
The giveaway prize
:
*Discount code: 15% off entire order: FBMOM11. This code is good until April 18th.
GIVEAWAY RULES:
1. I will be picking ONE (1) winner for this contest. One winner will win a taglette from the Pretty Peacock. One charm, with birthstone and initial personalization is included with the taglette.
YOU MUST DO THIS FIRST or all other entries will be DELETED!
2. Please tell me what jewelry you wear daily. (1 entry)
BONUS ENTRIES
2. Subscribe by Email and Confirm that Subscription (1 entry)
3. Subscribe to Sammi's Blog of Life in a Reader (1 entry)
4. Follow me on Blogger. (1 entry)
5. Follow me on Twitter (www.twitter.com/pinkice88) (1 entry)
6. Leave a Tweet and the direct link to that tweet (1 entry) (You can do this daily)
7. FOR 5 EXTRA ENTRIES - Blog about this giveaway with a link to my blog and come back and leave the link to your blog post. Post FIVE separate comments that you've blogged about this.
9. Add my main button to your sidebar (if it's already there, let me know that! Leave link to your blog.) (1 entry)
9. Add Sammi's Blog of Life to your blogroll (using my URL), with a link back to me! (1 entry)
10. Friend me on Facebook for 1 entry.
11. "Like" The Pretty Peacock on Facebook for 1 entry. (http://www.facebook.com/theprettypeacock)
Winner will be chosen on April 25, 2011 at 10 pm and then will be emailed.
One entry per day.
Alternate winner will be chosen if winner does not respond after 48 hours. Thank you and good luck!
Disclaimer-
I was provided a product in exchange for my review.
You can read more about my blog policies in my disclaimer.
Sammi's Blog Of Life Follows All New FTC & Facebook Laws for Reviews & Giveaways.
IF YOU DO NOT CORRECTLY ANSWER MY CONTEST QUESTION, YOUR COMMENT WILL BE IMMEDIATELY REJECTED.