I'm one of those individuals who really enjoy cooking. I find joy in whipping up a batch of chocolate chip cookies or a pan of rosemary roasted potatoes. Several nights a week I prepare homemade meals for my family and I find happiness in making delicious foods. I'd say that my meals are created with love and sometimes too many calories! In my opinion, fantastic meals start with quality kitchenware. When's the last time you've updated your kitchen accessories and tools?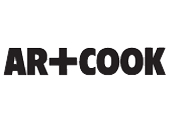 Art and Cook
first started as a cookbook in 2004 that won many design awards and recognition. By 2006, the brand launched a line of kitchen tools using new technologies and innovative shapes to inspire healthier and more productive ways of cooking. With more than 1,000 kitchen tools currently on the market, everyone incorporates labor-saving features with a beautiful design.
Some of Art and Cook's products include cookware and bakeware, trivets, measuring spoons and cups, herb misters, storage and organization and so much more. If you need to furnish your child's dorm kitchen for back-to-school, or know someone who recently moved into a new house, anything from Art and Cook makes the perfect gift. The brand is also helpful for sprucing up your own kitchen's products as well.
If you spend a lot of time in the kitchen cooking and preparing meals to make stomachs smile, your kitchen tools probably can be replaced from time to time. Items get worn and used and can start to look old over time. Wouldn't it be nice to replace certain items and update them with new and modern day versions? I have a wonderful gadget bundle that would make kitchens everywhere smile.
The
Large Soak and Strain Bowl
is a unique product that has an innovative hopper-strainer which drains off the dirty water from your fruit or veggies without letting anything fall out. The large bowl can accommodate anything you need strained and cleaned. When you're done, put it in the dishwasher to get clean for next time.
Since Fall is right around the corner, you know what that means! It's time to make plenty of hearty soups and stews. Fresh herbs are important in not only soups and stews, but sauces as well. They make everything taste wonderful. If you're planning on using herbs in your cooking now or in the future, you'll need something to keep them strong and protected. The
fresh herb keeper
prolongs the life of your herbs by two weeks or more. Making pasta for dinner soon? Why not make your own sauce with plenty of fresh basil? The family will love it.
I try to incorporate a lot of veggies and salads in the meals I make. You'll always find me chopping up a carrot or slicing cucumbers on the mandoline. I just love beautiful presentation and the
13-piece super slicer
lets every side dish be one that you won't soon forget. The unit offers different slicing and grating options for whatever your culinary heart desires. What's the best part, you ask? How about the fact that everything gets grated, chopped, or sliced right into the bowl it's connected to. You can't ask for anything more convenient than that. This will surely be a unit you'll use a lot.
If you're looking to cook more or expand your culinary horizons, this gadget bundle will surely be a greater starter kit in your kitchen. All you have to think of is what to cook next!