There's nothing like experiencing something for the first time, especially through the eyes of a child. Even the simplest things are magical to a child, and it's wonderful to see. Making memories and doing things together as a family is what life is all about.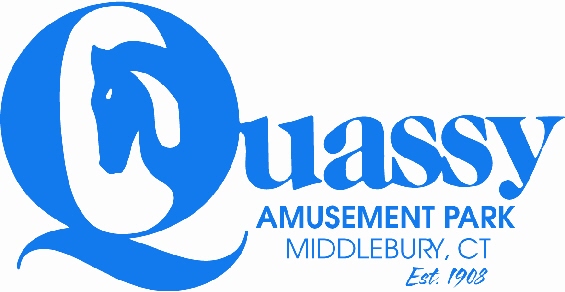 Quassy Amusement and Water Park
is a fabulous family attraction that's recently celebrated 108 years of fun. Located on Lake Quassapaug in Middlebury, Connecticut, it offers a variety of classic and newer theme park rides, as well as a water park for the whole family to enjoy. Your little ones will have a blast on kiddie rides like the Boat Ride or Jet Fighters.
Make a stop afterwards to cool off at Quassy's Splash Away Bay water park. Your older kids as well as adults will enjoy riding thrill rides like Wooden Warrior or Paratrooper. Since the park is situated on a lake, you can also partake in other activities like paddle boats or take a ride on the Quassy Queen. Don't forget to play some arcade or midway games to win some fun prizes. Cap the visit off with a delicious lunch or dinner as well as ice cream at Quassy's many eateries. It'll surely be a trip to remember!
Last summer, Scarlett was barely crawling let alone walking. This summer is a whole different story, she's up and moving and extremely active! She loves any kind of water park or splash pad, so we knew Quassy's Splash Away Bay would be right up her alley. You should see how excited she gets at the sight of water! We've never been to Quassy before, and knew it would be a fun thing for the whole family to experience together. With something for everyone at the park, how could you not love it?
As soon as you enter the gates of Quassy, you're met with a theme park that is intimate and welcoming. Everywhere you turn there is an element of fun or something not to be missed. This establishment doesn't look like your everyday theme park, but it offers something much more special.
We made our way to the Splash Away Bay water park first since it's what Scarlett would be most interested in. There's a section for younger children as well as a section for families with older children too. Scarlett had an absolute blast and enjoyed every minute of her time there. What child wouldn't love water fountains everywhere they turn? She even went down the kiddy water slides with her dad, what a lucky girl! The water was icy cold and perfectly refreshing on a hot sunny day like today. There are regular water slides for all ages that anyone would enjoy.
Once you've had your fill of the water attractions, there is plenty else to see and do in the park. The Quassy Zoo is cute and perfect for letting your child get some energy out while they get up close with animal friends. If you have an animal obsessed child like Scarlett, they'll love it even more!
You can't pass up the fun kiddy rides either! Scarlett had the opportunity to go on rides by herself for the first time. She's a fearless child and really liked it! She also went with me on a few too. The train ride is wonderful for kids and families as it takes you on two loops around the whole park. Sit back and enjoy while you take in all of what Quassy has to offer.
When you decide you want a break from the park fun, there are many eateries available to make your belly happy. The Quassy restaurant is perfect for lunch or dinner and they have a variety of options to please everyone.
The park is clean and well maintained while the staff is willing to help with whatever you may need. My family and I had a wonderful first time experience at Quassy Amusement Park and can guarantee that we'll be back in the future! The establishment really caters to individuals of all ages which ensures that everyone will have a good time.
If you're looking for something fun for the entire family, it's time to make a trip to Quassy.
*DISCLOSURE* Thank you to Quassy Amusement Park for providing us with complimentary passes in order to facilitate this post. All thoughts are strictly my own.