There's nothing I love during the warmer months of the year than salad. It's very hot here in New England, as well as the rest of the country. When it's hot outside nothing is more refreshing than a crisp and cool salad paired with a glass of iced tea.
Applebee's
is everyone's favorite family restaurant grill and bar. Sink your teeth into delicious hamburgers, salads, and sandwiches as well as fabulous lunch and dinner options. The cocktails and drinks will keep you coming back for more. Don't forget to end your meal with a delectable dessert that will curb that sweet tooth. Find a location near you and stop in for dinner tonight.
If you're in the mood for salads, you're in luck. Applebee's has recently unveiled their new wood-fired grilled salads that celebrate National Watermelon Day on August 3rd. Talking of grills, feel free to check out the camp chef woodwind grill review on
SolidGoldEats!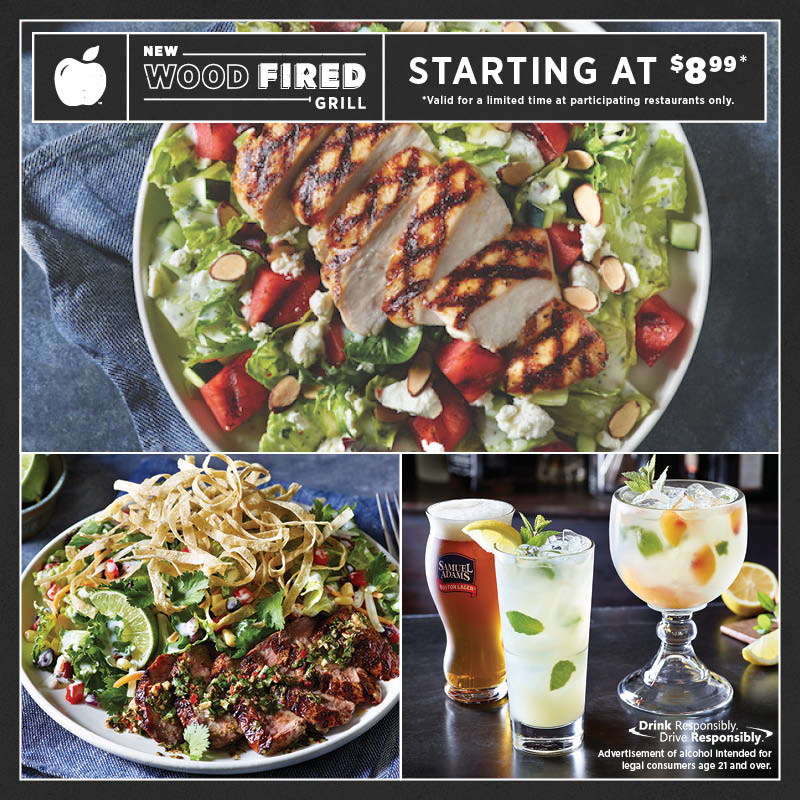 Starting at $8.99 at participating restaurants, you can delight your belly with the following wood-fired grilled salads:
Southwestern Steak Salad: Hand-cut wood-fired USDA choice top sirloin steak paired with chimichurri, pico de gallo, corn and black bean salsa, cheddar, crispy tortilla strips and a creamy house-made cilantro ranch dressing.
Grilled Watermelon and Spicy Shrimp Salad: Mixed greens, cucumbers, feta, almonds, and house-made creamy mint-Greek yogurt dressing. Also available with spicy blackened chicken.
Spicy Blackened Grilled Chicken, Avocado, and Grapefruit Salad: Mixed greens, pickled in-house red onions, cilantro leaves and house-made champagne vinaigrette.
Crispy Chicken 'N Spicy Cornbread Salad: Mixed greens, made-in-house jalapeño cornbread croutons, grape tomatoes, shredded cheddar.
Which salad sounds the best to you? I think I'd like to try the Southwestern Steak. Anything Southwestern inspired is always fabulous.
From July 20th-August 3rd, you can enter for a chance to win a $100 gift card to Applebee's by submitting your favorite salad recipe via Applebee's Twitter or Instagram using the #WoodFired hashtag or their best #WatermelonSmile (use the fruit to make a smiley face!)
One lucky winner will have the chance to try the new salad's at Applebee's by winning a $50 gift card.