The world would be a very boring place without baked goods. Sweet treats warm the soul and make everyone happy. Can you imagine living day-to-day without cookies, brownies, or even cupcakes? It would be horrifying. There's nothing like indulging in a fresh out of the oven cookie, or a perfectly warm and moist brownie. It's heavenly! If you're looking to make your stomach happy, go ahead and have a chocolate or peanut butter cookie today. Don't forget an icy cold glass of milk to go with it either.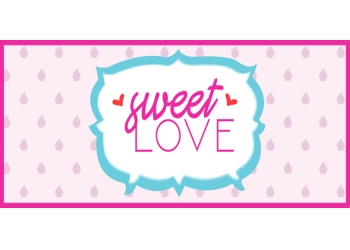 Sweet Love Bakery
is a bakery in Hollywood, Florida that specializes in vegan, gluten-free, and dairy-free baked goods. Stop in today to enjoy such treats as breads, donuts, cupcakes, cookies, muffins, waffles, and even pizzas! All of the products are made with organic ingredients so you can be sure you'll be eating nothing artificial. Your stomach will love chocolate chip biscotti cookies, chocolate dipped almond macaroons, chocolate cupcakes, apple pie, cake pops, and of course mini donuts too!
Looking to spice up your next party or social event? Keep Sweet Love Bakery in mind for custom cakes for birthday parties, weddings, baby showers, and work events. They'll surely be a hit.
I tried a sampling of goodies from the bakery and my sweet tooth was very happy. Who can say no to baked goods? If you ever see me turn down any sweet treats, alert the local hospital. Something is surely wrong with me! My belly was happy to try chocolate, vanilla, and strawberry mini cupcakes, chocolate chip cookies, a chocolate lava cake, and a cheese pizza!
The lava cake was hands down my favorite out of everything I tried. With just one bite, I was in absolute heaven. Who can resist a perfectly soft and moist cake bursting with sweet fudgy flavor? I loved it and was sad when I had eaten it all. I need to start every day off with the chocolate lava cake. All chocoholics will be surely satisfied with this treat! Heat this in the microwave for 10 seconds and your taste buds will be dancing.
The cupcakes had a great whipped frosting that was light and airy. Their mini size is perfect for satisfying that sweet tooth but not feeling overly guilty with a full-sized cupcake. I loved the strawberry cupcake best. These cupcakes are as beautiful on the outside as they are inside your stomach too.
If you're a fan of chocolate chip cookies, you'll go nuts for Sweet Love Bakery's mini chocolate cookies. These round circles of heaven pack a sweet taste that you'll absolutely love. Don't be fooled by the cookie's mini size, there's tons of chocolate chips in each and every bite. I loved these and ate them all at once. Who can resist chocolate cookies? Nobody, that's who.
I don't think that I've ever been to a bakery that also makes pizza, so that was unique. The bakery offers pizza's in 10 and 16". Since the pizza is gluten-free and vegan, it's not going to be your typical pizza that you get at a local pizza place. It's going to taste different since it contains ingredients that are gluten-free and vegan. I am always up for trying new things, so I was looking forward to this opportunity.
The crust is crisp and hard, so if you're looking for a soft fluffy crust this wouldn't be your go-to pick. The sauce had a nice flavor. Even though I heated up the pizza, the cheese didn't fully melt on the pizza, but I think that's a characteristic of vegan cheese. I enjoyed the chance to try something new, and if you're vegan you'll really enjoy it.
When you envision gluten-free and vegan food, you automatically think that it lacks taste and quality. With Sweet Love Bakery, this is certainly not the case. Their treats will surely please you from morning till night. Stop in today to place an order.
*DISCLOSURE* Thank you to Sweet Love Bakery for providing me with complimentary samples in order to facilitate this post. All thoughts are strictly my own.