Acne is one of the biggest skin challenges I face. For years, I've had breakouts on my cheeks, forehead, and around my chin. Not only does it look unattractive, it makes you feel self conscious too. I've experimented with so many different acne products over time. I've realized that some provide me with success, while some don't work at all. Wouldn't it be nice to eliminate acne for good and get that self-confidence back?
The
Acne Free 24 Hour Clearing System
will provide you with the acne relief that you've been dreaming of. Did you know that one in five women between the ages of 25 to 40 suffer from adult acne? It's time to disconnect yourself from that statistic. This convenient daily regimen is composed of three steps; an oil purifying cleanser, renewing toner, and repair lotion. The system features advanced micro-benzoyl which works fast and penetrates deep into pores. The advanced formula continues to work even after you're doing washing your face--continuously releasing acne busting ingredients throughout the day to help you clear your acne!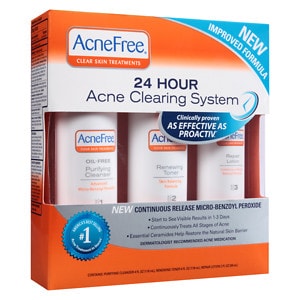 It's time to conquer acne for once and for all. Kick it to the curb and have that self-confidence shine through. First impressions are meaningful and it's time to make yours one that people remember for your personality, not your acne.