If you're looking to put a unique spin on a traditional Christmas dinner this year, I have the perfect suggestion for you. Skip the side dishes like mashed potatoes and casseroles and invite flavor into your mouth with empanadas. These pastries can be filled with meat, cheese, or even fruit. The possibilities of what to stuff them with are endless. All you have to do is choose whether you bake or fry them. Maybe you'll enjoy the side dish change so much that serving empanadas will become your family's new Christmas tradition. The holidays are all about making memories after all.
IMUSA
is the leading brand of Hispanic housewares and culinary brand ambassador of international cuisines. The line of cookware is innovative, authentic and affordable. IMUSA's products help bring the abuela's (grandma in Spanish) recipes to life while also capturing the adventurist spirits of culinary dreamers. The product line includes tortilla warmers, steamer pots, panini makers, pots and pans, rice cooker and so much more. There is definitely something available to help you begin your culinary passion in the kitchen.
From December 1st-25th, IMUSA will be giving away one product a day across their social media pages! Today, one lucky winner will have the opportunity to win an empanada maker. If you've never had an empanada before, you haven't truly lived.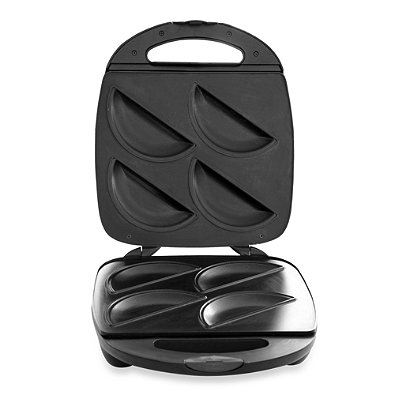 This handy little machine will make delicious empanadas to delight your taste buds.
Plug the machine in and in minutes you can make delicious filled pastries that are baked and full of flavor. Fill your dough with shredded meats and cheeses for the perfect holiday side dish. There's no reason why you can't serve dessert empanadas either at your holiday table. Chocolate and banana empanadas or caramel apple would make the perfect sweet treat. I could go for a rich and sweet chocolate and banana empanada right now!
How can you go wrong with chocolate and banana? A classic flavor that always makes stomachs smile.
Head on over to IMUSA's
Facebook
and
Twitter
page for your chance to win. Maybe you'll be their next winner!
*DISCLOSURE* IMUSA provided me with monetary compensation in exchange for this post. All thoughts are my own.