When it comes to laundry, it's best to use a brand that will get the job done correctly the first time. That brand needs to be at the top of its game and able to fight through tough stains and grime with ease. Many fall short of this task, while only a handful can call themselves true laundry champions. I've always viewed Tide as the most premium of laundry detergent brands and many will agree with me. It's important to me that my clothes come out looking excellent each time. Tide never lets me down.
Tide
allows you to enter into the bright and magical world of clean clothing. Tide has been making consumers happy since 1946 with their laundry detergent. Fast forward many decades later and you'll see different varieties of Tide products lining your drugstore shelves. If you want diversion from original Tide, how about Tide with a touch of Downy, Tide Free, Tide with Febreze freshness, or even Tide with bleach alternative? This is just to name a few of Tide's children! My clothes have been introduced to Tide for years now and they always enjoy the meet-up. If you're looking for unparalleled results, please turn to Tide.
Recently, Tide has partnered with Oxiclean to produce a new Tide Oxi multi-purpose stain remover. Go ahead and give those spring clothes you had stored away a brilliant clean so you can look your best this season. This true multi-purpose cleaner features the amazing cleaning power of Tide to fight stains. When used as an additive to detergent, it provides better stain removal and brightens whites and colors without hurting them. The best part about this stain remover is that it's multi-purpose. So, while you can use it on your clothes, you can also use it to fight household stains on carpets and upholstery. It's also ideal for tile and grout, bathtubs, and outdoor furniture! How's that for a product with many uses?
Stains, don't even think about it.
I had the fantastic opportunity to try both Tide Original, and the new stain remover. Just a day prior to receiving the package, I had gotten a chocolate stain on my shirt. Chocolate isn't the easiest stain to remove, so I was not thrilled about it. Fortunately with Tide to my rescue, the stain would be kicked to the curb.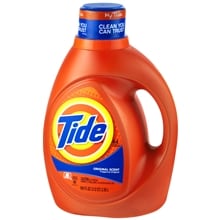 How do I love thee? Let me count the ways.
Laundry day arrived and I threw everyone into the machine. I added the Tide original and the stain remover. I could hear all of the clothes talking to each other and getting re-acquainted. Once the washing cycle was done, I went to switch them to the dryer. As soon as I opened the washing machine top, I was hit with the fragrance of Tide. My nose smiled, the stars aligned, the world was perfect. Tide truly makes you happy. I checked on the shirt with the stain and it was completely gone. I knew that Tide would have no problem fighting it. I've gotten chocolate stains before where the stain was removed 50%, but not all the way. Tide and the stain removal kicked it to the curb!
As always, I am thrilled with Tide. No longer will I continue to worry everytime I get a stain and wonder will this one be unremovable? I know that with Tide's power in my future, stains are no match. I also look forward to using the stain remover on my tile and grout. I highly recommend Tide and its products. Your household will thank you.
a Rafflecopter giveaway