When I travel, I usually bring my iPad with me. I preload my device with fun apps before I go so I can be entertained on the plane. Of course I don't like to set my iPad down without a case as it's very susceptible to dirt and scratches that way. Sometimes the tablet isn't always easy to use when it's in a case either. What do you do in this case? Shoplet makes all of your easy to use iPad dreams a reality with their innovative products.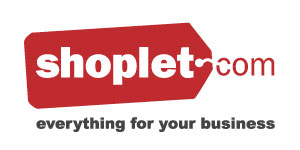 Shoplet
offers over 400,000 discounted office products for whatever your needs may be. If you're seeking office supplies or furniture, Shoplet is your company. You'll have a huge smile on your face when you save big bucks on name brand ink and toner, paper, office cleaning supplies, and technology items among many others. Whatever your needs are, Shoplet has you covered. Even if you aren't in the market for office supplies, they also have a whole section for school. Go ahead and buy your children's school supply list this way, or teachers can even buy items their classroom needs. You'll soon be recommending Shoplet to everyone you know!
I was fortunate enough to receive the
Kantek Rotating Desktop Tablet Stand
for review. This handy product provides easy access to your tablet when used in a landscape or portrait position.
Hi. You'll be seeing me around a lot lately. I'm your iPad's new best friend.
I've been using my iPad a lot more than normal lately. It's very enjoyable to lay in bed and watch videos or movies that I've preloaded on my tablet. It does get annoying to have to constantly hold the iPad up though to see it. I just put my iPad in the stand and place it on my nightstand. Let me tell you, it's much nicer and more convenient to have it be hands-free.
The black rotating stand is very sleek and modern. It's very compact and doesn't take up too much space. The iPad is very easy to snap into the base and it stays securely. It turns with ease, which is excellent. I like the fact that you can use it in a portrait or landscape setting, depending on what you desire. If you're someone who likes to use their iPad at work, this would be a great stand to use on your desk. All of the features of the iPad are easily accessible and nothing is hindered by the stand.
I've really enjoyed using my iPad with the rotating stand. The next time I fly, I will surely be placing my rotating stand on the tray table when I want to use it or watch movies. It will make my iPad experience a fantastic one. I highly recommend this stand to anyone looking to revolutionize their iPad.
*DISCLOSURE* I received a complimentary iPad stand in exchange for this review. All thoughts are my own.