I'm an avid picture-taker. Every trip or vacation I go on, my camera is always on my packing list. I'm constantly snapping shots at any given moment. Since I'm only 5'0, this goes against me when I want to take a picture over a crowd at a concert, or anywhere else where height is a requirement for a certain picture. Wouldn't it be nice if there was a product created that allows you to take the pictures you want even at your current height? Looq is here to make your photography dreams come true.
The
Looq
is a must for any photography lover. This device is the world's first battery-less remote shutter pole. You simply plug your iPhone or Samsung Galaxy phone into the slot of the Looq and then plug the wire into the earphone jack. After you download the free app from Google Play or the Apple Store, you're ready to go. With a remote shutter, you can enjoy a fabulous picture from any angle, anywhere, and anytime. Your phone fits snugly into the spring-loaded holder that will keep your phone safe while you snap away.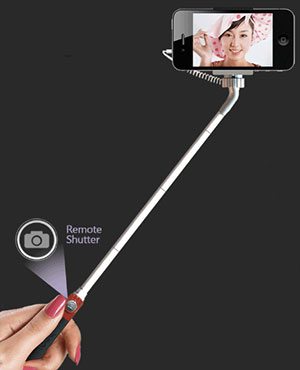 You'll never have to worry about getting that perfect shot anymore. Every shot will be fantastic.
I can think of a myriad of ways to use the Looq. Since it's portable, it conveniently fits into a purse or suitcase for on-the-go use. It's perfect for selfies since it has a mirror attached so you can see yourself as you take the picture. It's always annoying to have your arm in the picture while you try to achieve the perfect selfie. How about a cool action shot while skiing or snowboarding? Since the Looq extends up to a convenient 23 inches, you'll have no problem taking a great picture. Don't forget to bring it to your favorite concert or show so you can take pictures over the crowd.
This would make a wonderful Christmas present for yourself or anyone else. Let the Looq help to turn you into your own personal photographer.