I have an unhealthy obsession with all kitchen items. It doesn't matter if it's a muffin pan, a blender, or a spatula, I love everything equally. I had more fun than most when creating my wedding registry months ago. Seeing all of the kitchen items on my list made my eyes light up like the fourth of July! I was truly like a kid in a candy store. I enjoy cooking and always am on the look out for the newest and hottest kitchen appliances. I've owned T-Fal items for years and I recommend them for their quality results.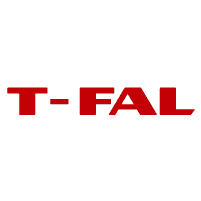 T-Fal
is a manufacturer of non-stick cookware, small kitchen appliances, and housewares. Their pots and pans are my favorite brand and the only brand I trust in my kitchen. If you're looking for small small kitchen appliances, they offer toasters, deep fryers, electric kettles, pressure cookers and more. T-Fal makes high quality irons as well. Whatever you need to furnish your new home with, T-Fal is there for you.
Like everyone in the world, I enjoy some unhealthy foods from time to time. I'm not a lover of fried foods, but I do love french fries. Who doesn't? What I don't love is that they are not good for you and also cooked in a vat of oil. Wouldn't it be nice if you could enjoy some of your favorite fried foods but made with only one tablespoon of oil? The T-Fal ActiFry is up for the challenge of cooking delicious foods made with much less fat and calories!
This unique multi-cooker needs only one spoonful of the oil of your choice to make two pounds of tasty French fries using a continual motion stirring paddle. The fryer can also be used to cook a wide range of other recipes including fried veggies, fried chicken, and more. A recipe book is included to get your fried food cookin' on.
I had heard of the ActiFry for a few years now and had always wanted to try it. When I received the opportunity to review one, I was very excited. I loved the sleek black and silver color pattern. I watched a couple of videos online of the product in use, and I also read the recipe book. I wanted to make sure I knew how to use the ActiFry beforehand. The first thing that I wanted to make was potato chips with the potatoes that needed to be used up. I sliced the potatoes thinly with my mandoline. I seasoned them with a small amount of garlic powder and seasoned salt. I poured one tablespoon of olive oil on top of the chips in the unit. I wasn't sure if my chips would cook with such a small amount of oil. Would they be ok? Will they burn? I had to trust T-fal for making a product that would live up to its promise. The unit was user friendly and easy to use. I closed the lid, set the timer, and walked away.
Not long after that, the machine alerted me that the chips were done. They looked so beautiful in the machine! None of them were burnt but all perfectly crispy and golden brown. The seasoning was sprinkled evenly throughout each chip. The chips had a fabulous crunch and wonderful flavor. I was shocked that I made a batch of chips with just ONE tablespoon of oil! The only thing that I didn't love about this machine was the bulky large size of it. Luckily I have spacious cabinets in my kitchen and they can hold the unit easily. If you have a small kitchen make sure you have some extra storage for the unit.
This unit would be perfect for making buffalo wings or popcorn shrimp for party appetizers, not to mention so many more yummy foods. Wow your guests with appetizers made with half the fat and calories! I can't wait to check out the recipe book and make more yummy things from it.