I'm all about comfort. Any chance I have to lay in bed and read, watch TV, or write, I'll gladly take the opportunity. I much prefer to be in a reclined position than sitting upright. Why be uncomfortable when you can be comfortable? If you have to stand, make sure your feet are enveloped in the deliciousness of a GelPro mat.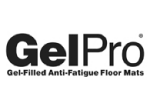 The
GelPro
floor mat is engineered for comfort creating the ultimate anti-fatigue gel-filled floor mat for the kitchen, salon or any area when standing for an extended period of time. These mats reduce the discomfort of standing on hard flooring, which causes stress to your whole body. Each mat has a revolutionary shock-absorbing gel core that cradles your feet, providing extra support and cushion. GelPro also features a durable and stain resistant synthetic fabric surface, which is appealing to those who value comfort and style in their home. A GelPro mat is available in more than 600 colors, size and pattern combinations, so it's easy to find a mat that's perfect for your home's décor. Give the gift of GelPro for Mother's Day, a birthday, or a just thinking of you gift. Everyday is a great day to introduce GelPro into your life.
I've been wanting a mat for my kitchen for a while. I have hardwood floors in my kitchen. Let's face it, hardwoods aren't extremely comfortable. It's much nicer to stand on a cushy rug or mat while cooking dinner or doing dishes. Did you know that standing on a tile floor has the same impact on your feet and back as a 30-minute jog?
When I had the opportunity to review a GelPro mat, I was very excited. I took my time in browsing the site and selecting my choice. My kitchen is right off my living room, so I wanted something to match the colors of my living room. I finally settled on the ergo comfort rug in Blossom Whisper. These are my exact colors and I was instantly attracted to the fun and whimsical pattern.
Experience the luxury of a premium comfort mat covered with a soft designer rug that feels ultra plush on bare feet. Not to mention it provides therapeutic support to your feet, legs and back.
The rug fits perfectly in front of my sink. I just love it! The size couldn't be any better either. I received the rug in the mail today. The shipping time was exceptionally speedy. Who doesn't love fast customer service? The quality of the rug is outstanding. It's very thick, plush and like having a square cloud in my kitchen! It's very durable and also machine washable. The background color is like a soft oatmeal. I love the vibrant multicolored blossom bursts too. Standing on the rug is truly like a dream. It's beyond comfortable and gives my feet the break they deserve. I normally stand on hardwoods, but not anymore. My feet started singing the moment I stepped onto this heavenly rectangle. Not only do my feet get a treat, but my whole body receives the support it deserves. You can't go wrong with that.
The rug truly warms up my kitchen and makes it a more comfortable place to be. I am honestly not sure how I had not previously owned a GelPro mat before. Start your day off right by standing on this mat. I urge you to treat yourself and order a mat today.