If I'm looking for a quick and easy lunch, I often opt for Lean Cuisine. Since they offer so many different meal options, you'll quickly form new favorites. The food is tasty and low in fat and calories which you can't beat, not to mention very convenient. I've been enjoying Lean Cuisine for many years now and always am on the lookout for new additions from them.
Lean Cuisine
is a brand of frozen entrees and dinners. The brand began as a low-fat, low calorie version of Stouffer's products. Today, the line-up includes traditional dinners, ethnic dishes, pizzas, whole grain Spa cuisine entrees and paninis. All LC items are required to meet the "lean" criteria of less than 10g of fat, 4.5 g or less of saturated fat, and less than 95 mg of cholesterol. The dishes are also calorie-controlled, with most items in the 200-300 calorie range. My favorite LC meals are the panini's, pizzas, and pasta. I also enjoy the sesame chicken and fiesta grilled chicken too. There are so many options, guaranteed to satisfy anyone.
The big in taste but low in calorie brand has recently come out with a new product. Salad lovers listen up, Forget spending $10 on a speciality salad at a market or restaurant, make your own and save money. Lean Cuisine has come out with four new salad additions in the flavors of: Asian style chicken salad, bistro chicken salad, cranberry and chicken salad and south-west style chicken salad. Each salad comes with its own ingredients and dressing already packaged, all you have to do is provide the greens.
I was sent two varieties of the salads to try, Asian style chicken salad and the cranberry and chicken. I think this is a very innotivate idea. I love to eat salads but it can be a pain to buy all of the ingredients and chop up the veggies. Not to mention all of the ingredients can be costly too. I am much more inclined to eat a salad when it's already created for me.
The cranberry and chicken salad sound delicious to me, so I decided to try that one first. This salad comes with raspberry cabernet vinaigrette, grilled white meat chicken, diced cranberries, broccoli, red onions, yellow carrots, and crunchy sesame sticks. How fantastic does the salad sound already?
I brought this to work to have for lunch today. I brought some spinach leaves to use as the base of the salad. I try to be good during the week and eat healthy. Having this helped me to stay on track. The salad was really easy to make. The first step is to prepare the salad dressing. You just have to let the packet thaw in a glasss of room temperature water since it is frozen. I am not a big dressing lover so I knew I wouldn't be using much of it. You put the chicken, fruit and vegetable steam pouch in the microwave and cook for about 2 and a half minutes. Then you put the greens of your choice in the bowl, put the heated ingredients in and toss. I finished everything off by adding the yummy crunchy sticks and a light layer of dressing.
The salad was really delicious actually! I thought the chicken was juicy and had a nice flavor to it. All of the veggies were steamed and cooked well and the cranberries were perfectly tart. The crunchy sesame sticks gave a nice added crunch that I really liked. The raspberry dressing was very interesting. I really enjoyed the sweet flavor of it and it paired fabulously with the chicken and the cranberries. I was impressed at how fresh the salad tasted considering it came out of my microwave. What I love most is that this is a low-cost lunch that you would pay big bucks for at a restaurant. The whole salad has 280 calories which I think is not bad at all. This salad would be perfect for lunch or school or even for anyone on the go.
I look forward to trying the Asian chicken salad soon, I just have to buy more lettuce! :)
Five lucky winners will get to have their salad dreams come true when they win a Lean Cuisine prize pack featuring 5 Lean Cuisine free product coupons to purchase a salad addition of their choice, 5 Fresh express free product coupons to purchase lettuce, 1 lunch bag and a pair of salad tongs.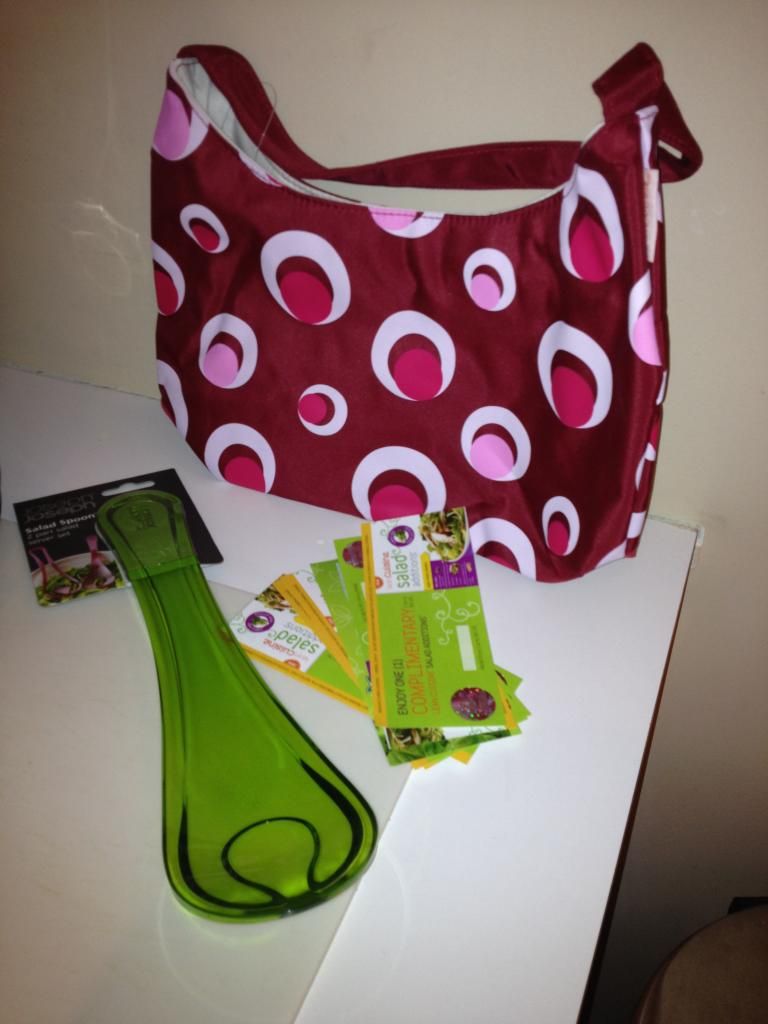 http://www.rafflecopter.com/rafl/display/8b93dd60/