Let's face it, we all have bad hair days. On those days, we just want to wear a hat and hide from people. If you feel this way, you're certainly not alone! John Frieda has created products to tame frizz and flyaways and help you feel more confident with your appearance. It's time to face the world with a smile!
John Frieda
is an English celebrity hairstylist and founder of hair salons and styling products. This brand is your go-to choice for keeping your hair looking fabulous and beautiful at all times. John Frieda produces shampoos and conditioners, and volumizing products and serums. Of course you can't forget hair brushes, blow dryers, flat irons, and curling irons too! Whatever you need to make your look its best, John Frieda is there for you.
I know my hair could always use a boost. I'm always on the lookout for new products meant to give my hair extra body and smooth away those annoying fly-away's. John Frieda is one brand that I've had immediate success with. I've been using their shampoo's for years now and always love the results I achieve. Let John Frieda work his hair magic on you with the following products:
A small change can make a big difference to the healthy look of your hair. This shampoo with natural eucylptus hydrates your scalp, nourishes from roots to ends and stimulates your senses. You will achieve hair that's noticeably more radiant and resilient with every use of the shampoo. This shampoo is safe for color treated hair.
Nourish your hair and scalp with this nourishing and moisturizing conditioner. The eucylpatus ingredient is formulated to deeply hydrate your hair from roots to ends for silky smooth hair. The conditioner acts on dry, depeleted ends and invigorates the scalp.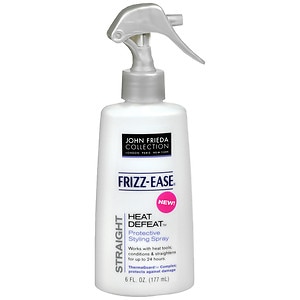 The John Frieda Frizz-Ease Heat Defense Protective Styling Spray works with heat tools and conditions and straightens for up to 24 hours. With ThermaGuard Complex, it protects against damage from daily heat styling.
The John Frieda Full Repair Flyaway Tamer is truly a gift from up above! This product works great on taming flyaway's and keeping your up-do looking flawless. Simply use on dried, styled hair and brush wand over broken hairs to smooth unruly flyaway's. Reapply as needed. Your frayed ends will never look better thanks to John Frieda! This is an ideal item for on-the-go touch ups and a boost of shine.
It's time for you to make room in your bathroom for your new beauty routine. Answer the phone because great hair is on the line!