I enjoy styling my hair. Curling it, blow-drying it, flat-ironing it, etc, those are all on my hair to-do list. I am always trying and experimenting with new updo's and styles. Most people don't realize that those styles that everyone loves have to begin with a good hair brush. For that, I turn to John Frieda.
John Frieda
is an English celebrity hairstylist and founder of hair salons and hair products. This brand is your go-to choice for keeping your hair looking fabulous and beautiful. The brand offers shampoo and conditioners, volumizing products, serums, and of course curling irons, flat irons, and hair brushes. I've never used John Frieda hair brushes before, but have always noticed them in Target and drug stores.
The hair brushes are made all for different hair styling needs. If you need a round brush which ensures full volume, or a vent brush which helps to maximize drying time for rapid styling, they are available. Of course there are other brushes too which are there to help your hair look its best.
The John Frieda Vent Brush Sleek Finish is a great one that I want to focus on.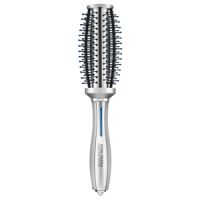 This smoothing brush features silicone bristles, natural ions, and vents to maximize dryer airflow for rapid styling. This would be the perfect complement to your John Frieda full volume dryer.
If you're looking to quickly style your hair in the morning before work or school, this would be the perfect brush for you. How do you regularly style your hair?
GIVEAWAY RULES:
1. I will be picking ONE (1) winner for this contest. One winner will win a John Frieda® Vent Brush Sleek Finish.
YOU MUST DO THIS FIRST or all other entries will be DELETED!
2. Please tell me how you regularly style your hair. (1 entry)
BONUS ENTRIES
3. Subscribe by Email and Confirm that Subscription (1 entry)
4. Subscribe to Sammi's Blog of Life in a Reader (1 entry)
5. Follow me on Blogger. (1 entry)
6. Follow me on Twitter (www.twitter.com/pinkice88) (1 entry)
7. Leave a Tweet and the direct link to that tweet (1 entry) (You can do this daily)
8. FOR 5 EXTRA ENTRIES - Blog about this giveaway with a link to my blog and come back and leave the link to your blog post. Post FIVE separate comments that you've blogged about this.
9. Add my main button to your sidebar (if it's already there, let me know that! Leave link to your blog.) (1 entry)
10. Add Sammi's Blog of Life to your blogroll (using my URL), with a link back to me! )1 entry)
11. Become a fan of my Facebook fan page for 1 entry (https://www.facebook.com/pages/Sammis-Blog-of-Life/307593407356)
12. Like John Frieda on Facebook for 1 entry
(https://www.facebook.com/johnfriedaus)
13. Follow John Frieda on Twitter for 1 entry
(https://twitter.com/JohnFriedaUS)
Winner will be chosen on August 31st, 2012 at 10 pm and then will be emailed.
One entry per day.
Alternate winner will be chosen if winner does not respond after 48 hours. Thank you and good luck!
Disclaimer-
All thoughts and opinions are solely mine and not based on anything else.
You can read more about my blog policies in my disclaimer.
Sammi's Blog Of Life Follows All New FTC & Facebook Laws for Reviews & Giveaways.
IF YOU DO NOT CORRECTLY ANSWER MY CONTEST QUESTION, YOUR COMMENT WILL BE IMMEDIATELY REJECTED.