It's important to eat healthy on a regular basis. Of course it's inevitable that we're going to want to indulge in things that aren't always the best for us, but we should try to eat nutritiously often. Yogurt is extremely healthy for you and contains vitamins and nutrients that your body needs. The hardest part for me is always choosing which yogurt flavor I want, because I usually like them all!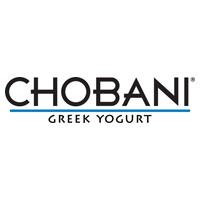 Chobani
is the deliciously thick, creamy yogurt made deep in the rolling hills of Central New York.
They carefully craft each cup of their yogurt to perfection, using only the highest quality natural ingredients. That means no funny stuff you can't pronounce. Just fresh milk, real fruit, and natural sweeteners. Every cup is nothing but good. Just ask their fans. They've spooned their way to making Chobani the #1 yogurt in America!
Chobani comes in many flavors including apple cinnamon, black cherry, blood orange, honey, lemon, peach, pomegranate, raspberry, strawberry, and many more. There is a flavor suited for anyone's taste.
Greek yogurt is loaded with protein, it's a tasty source of calcium, and makes a great midday snack as it's filling and satisfies hunger longer.
There are many ways to enjoy Chobani, whether you incorporate it into a morning smoothie or just straight out of the cup. Maybe you even want to sprinkle some granola into it too. However way you like your yogurt, make sure it tastes great!
GIVEAWAY RULES:
1. I will be picking ONE (1) winner for this contest. One winner will win a 12 cup case of assorted Chobani Greek yogurts.
YOU MUST DO THIS FIRST or all other entries will be DELETED!
2. Please tell me what your favorite Chobani flavor is. (1 entry)
BONUS ENTRIES
3. Subscribe by Email and Confirm that Subscription (1 entry)
4. Subscribe to Sammi's Blog of Life in a Reader (1 entry)
5. Follow me on Blogger. (1 entry)
6. Follow me on Twitter (www.twitter.com/pinkice88) (1 entry)
7. Leave a Tweet and the direct link to that tweet (1 entry) (You can do this daily)
8. FOR 5 EXTRA ENTRIES - Blog about this giveaway with a link to my blog and come back and leave the link to your blog post. Post FIVE separate comments that you've blogged about this.
9. Add my main button to your sidebar (if it's already there, let me know that! Leave link to your blog.) (1 entry)
10. Add Sammi's Blog of Life to your blogroll (using my URL), with a link back to me! (1 entry)
11. Become a fan of my Facebook fan page for 1 entry (https://www.facebook.com/pages/Sammis-Blog-of-Life/307593407356)
12. Like Chobani on Facebook for 1 entry
(https://www.facebook.com/Chobani)
13. Follow Chobani on Twitter for 1 entry
(https://es.twitter.com/Chobani)
Winner will be chosen on August 27th, 2012 at 10 pm and then will be emailed.
One entry per day.
Alternate winner will be chosen if winner does not respond after 48 hours. Thank you and good luck!
Disclaimer-
I was provided a product in exchange for my review. All thoughts and opinions are strictly mine and not based on anything else.
You can read more about my blog policies in my disclaimer.
Sammi's Blog Of Life Follows All New FTC & Facebook Laws for Reviews & Giveaways.
IF YOU DO NOT CORRECTLY ANSWER MY CONTEST QUESTION, YOUR COMMENT WILL BE IMMEDIATELY REJECTED.