St. Ives is the leader in skincare. They create products with quality ingredients that ensure your skin looks as radiant and beautiful as possible. One of the first skincare products that I started using way back when was the apricot scrub. I still use it to this day and St. Ives continues to be a vital part of my beauty routine.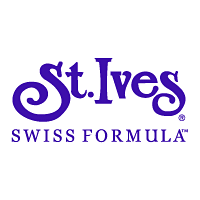 Since 1980,
St. Ives
has been creating effective skincare solutions from nature. Keep your skin feeling fresh and younger looking with St. Ives — America's beloved facial scrub, body wash and lotion brand. St. Ives is dedicated to bringing you the best of nature with formulas that delight the senses and leave your skin with a soft, fresh feel. They understand that the little everyday choices you make help to better your life. That's why St. Ives is a formulator of quality products with ingredients sourced from nature.
The iconic St. Ives Scrub recently received a makeover! The products are now 100% sulfate-free formulas.
Perfect for extra-gentle, post-summer exfoliation, these cult-classic scrubs are formulated with 100% natural exfoliants, helping to get rid of flaky, dry, dull skin and reveal a smooth, radiant complexion.
The new scrubs consist of Fresh Skin, which is an apricot scrub that invigorates and smoothes skin. Timeliness Skin, an apricot scrub that visibly tones and firms skin. Sensitive Skin, an apricot scrub which gently soothes and cleans. Lastly, Blemish Control which is a green tea scrub that gently clears breakout and calms redness. I was sent all four to review. I was very excited when these showed up because I love to review girly items.
As you can see the apricot ingredient is a popular favorite among many and it's a main component. Each scrub is geared towards a certain type of skin, which I love. I regularly suffer from breakouts which are extremely annoying. The breakouts aren't severe by any means, but they still bother me. I wish my skin would remember that I'm not 13 anymore. The green tea scrub was the first one that I wanted to try. With the promise of clearing breakouts and redness, this certainly was right up my alley.
The scrub has a very pleasant green tea aroma, which you can instantly smell when you open the lid. The product itself was easy to apply and rub into my skin. I regularly love to exfoliate because I have dry skin. I rubbed the scrub deeply into my skin and tried to scrub out the dry, dead skin as best as possible. I could smell the scrub on my face as I used it, it's a very soothing smell. The product easily rinsed off my skin. After I dried my face I instantly noticed that my face looked and felt brighter and more radiant. My skin was smooth to the touch. I've been using this scrub for two days now and I truly can notice a different. The acne that I had by my chin has reduced and my breakouts seem to be much more controlled now. I believe that if I use this on a daily basis, my acne will be much better!
This product is just another example of fine work done by St. Ives. I continuously trust and recommend their products to others.
I haven't had a chance to use the other scrubs yet, but they will gain their place in my medicine cabinet soon enough. :)
GIVEAWAY RULES:
1. I will be picking ONE (1) winner for this contest. One winner will win a Fresh Skin and Green Tea scrub.
YOU MUST DO THIS FIRST or all other entries will be DELETED!
2. Please tell me why you'd like to try these new scrubs. (1 entry)
BONUS ENTRIES
3. Subscribe by Email and Confirm that Subscription (1 entry)
4. Subscribe to Sammi's Blog of Life in a Reader (1 entry)
5. Follow me on Blogger. (1 entry)
6. Follow me on Twitter (www.twitter.com/pinkice88) (1 entry)
7. Leave a Tweet and the direct link to that tweet (1 entry) (You can do this daily)
8. FOR 5 EXTRA ENTRIES - Blog about this giveaway with a link to my blog and come back and leave the link to your blog post. Post FIVE separate comments that you've blogged about this.
9. Add my main button to your sidebar (if it's already there, let me know that! Leave link to your blog.) (1 entry)
10. Add Sammi's Blog of Life to your blogroll (using my URL), with a link back to me! (1 entry)
11. Become a fan of my Facebook fan page for 1 entry (https://www.facebook.com/pages/Sammis-Blog-of-Life/307593407356)
12. "Like" St. Ives on Facebook for 1 entry
(https://www.facebook.com/stives)
Winner will be chosen on August 1, 2012 at 10 pm and then will be emailed.
One entry per day.
Alternate winner will be chosen if winner does not respond after 48 hours. Thank you and good luck!
Disclaimer-
I was provided a product in exchange for my review. All thoughts and opinions are strictly mine and not based on anything else.
You can read more about my blog policies in my disclaimer.
Sammi's Blog Of Life Follows All New FTC & Facebook Laws for Reviews & Giveaways.
IF YOU DO NOT CORRECTLY ANSWER MY CONTEST QUESTION, YOUR COMMENT WILL BE IMMEDIATELY REJECTED.