I've always had a deep affection for animals. I love any movie that focuses around dogs, cats, etc, especially if it's a special bond between pet and owner. Pets give us unconditional love for nothing in return, so why can't we show appreciation towards them too?
Warhorse is a deeply heartfelt story that focuses around a horse name Joey and his trainer, Albert. The story follows their separation by World War 1, but that doesn't stop Joey from trying to find Albert. I don't want to give too much away, but it's really a beautiful story. The cinematography is superb, although Spielberg always produces gorgeous movies.
The movie will have you cheering at certain parts, and feeling the sadness for the characters in others. It certainly is an emotional roller coaster!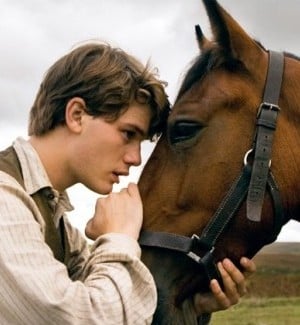 War Horse became a box office success and was met with positive critical consensus. The film was nominated for six Academy Awards including Best Picture. It was also nominated for two Golden Globe Awards and five BAFTAs. The New York Post has deemed it one of the best pictures of 2011. It's a family friendly movie that I know everyone will love.
If you're looking for a new movie to watch, I highly recommend War Horse.
GIVEAWAY RULES:
1. I will be picking ONE (1) winner for this contest. One winner will win a 4-Disc combo pack copy of Warhorse.
YOU MUST DO THIS FIRST or all other entries will be DELETED!
2. Please tell me why you'd like to win this movie. (1 entry)
BONUS ENTRIES
3. Subscribe by Email and Confirm that Subscription (1 entry)
4. Subscribe to Sammi's Blog of Life in a Reader (1 entry)
5. Follow me on Blogger. (1 entry)
6. Follow me on Twitter (www.twitter.com/pinkice88) (1 entry)
7. Leave a Tweet and the direct link to that tweet (1 entry) (You can do this daily)
8. FOR 5 EXTRA ENTRIES - Blog about this giveaway with a link to my blog and come back and leave the link to your blog post. Post FIVE separate comments that you've blogged about this.
9. Add my main button to your sidebar (if it's already there, let me know that! Leave link to your blog.) (1 entry)
10. Add Sammi's Blog of Life to your blogroll (using my URL), with a link back to me! (1 entry)
11. Become a fan of my Facebook fan page for 1 entry (https://www.facebook.com/pages/Sammis-Blog-of-Life/307593407356)
Winner will be chosen on May 3, 2012 at 10 pm and then will be emailed.
One entry per day.
Alternate winner will be chosen if winner does not respond after 48 hours. Thank you and good luck!
Disclaimer-
I was provided a product in exchange for my review. All thoughts and opinions are strictly mine and not based on anything else.
You can read more about my blog policies in my disclaimer.
Sammi's Blog Of Life Follows All New FTC & Facebook Laws for Reviews & Giveaways.
IF YOU DO NOT CORRECTLY ANSWER MY CONTEST QUESTION, YOUR COMMENT WILL BE IMMEDIATELY REJECTED.