I'm the kind of person who wants everything in the kitchen to match and have an according place. I don't like mismatched silverware or a random plate that doesn't fit in with the matching set. I'm kind of a kitchen nerd in that aspect. It gives me great pride to have everything together in one set in my kitchen.
Oneida
is a housewares company which offers flatware, dinnerware, cookware, bakeware, drinkware, and more. They have quality items that are built to last. They have something for everyone's taste and style. I've browsed their product pages and have loved a lot of what I've seen. An item or two from Oneida would make the perfect gift for someone who has just moved into a new house, or for someone's first apartment.
I have previously done a review for Oneida's cookware. I was very impressed with their cookware that I knew I needed to review more of Oneida's products.
My flatware is old and is definitely in need of an upgrade. I knew that I needed to replace it, but couldn't find a pattern in the stores that I liked. I stumbled upon Oneida's flatware section on their website and was so happy with each pattern that I saw.
I knew that I wanted something modern and pretty but not so elegant that I felt like I was hosting a Christmas dinner party.
I finally settled on the beautiful
Satin Aquarius
pattern. Oh, I love it so much!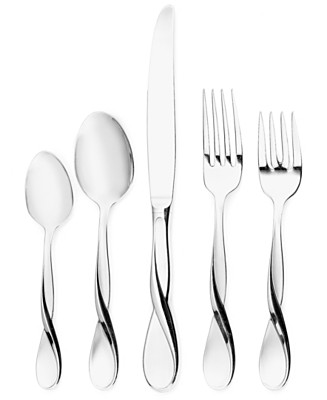 Satin Aquarius strikes a balance between classic and modern style, intertwining graceful ropes of satin and polished 18/10 stainless steel. Dishwasher safe.
Isn't it just gorgeous? I'm so happy to have a high-quality flatware set. I love the twisted rope pattern, it's very modern which is just my style. The utensils are not too heavy at all, a perfect weight I might add. I touched a few of the utensils to see how fingerprint-prone they are, and honestly I could barely see a fingerprint at all on them! The stainless steel is produced well and very high quality. The silver definitely sparkles and it looks fantastic in my silverware drawer. I can't wait to use these for dinner tonight. I'm sure this set will last me quite a number of years.
*DISCLOSURE* Thanks to Oneida for providing me this flatware set in exhange for my review. All thoughts and opinions are solely mine.