Having a wide range of pots and pans in your kitchen is important. Each piece of cookware cooks your food differently and it's always nice to have various kinds for the ultimate level of cooking optimization desired.
Green-Pan
is a Belgian based company that is the first cookware company to create PTFE-free non-stick products. Our products have truly transformed the entire cookware market. Each of our products makes a serious commitment to your health, your convenience and the environment. High-end materials and the latest state-of-the-art technology make it possible to create these unique lines of pans, pots and bakeware. Enjoy the new dimension, feel safe eating your creations and expand your cooking skills with GreenPan™.
Great benefits from using Green-Pan cookware:
With Thermolon™ non-stick technology; A natural, non-stick mineral-based coating.
No potentially dangerous chemicals inside: It's completely PTFE-free and contains no silicone oil.
Manufactured without PFOA and applied in an environmentally friendly way, resulting in 60 % less CO 2 emissions.
Heat resistant up to high temperatures. If you accidentally overheat your pan, even up to 450°C/850°F, no toxic fumes will be released and the coating will not blister or peel
Use of up-cycled aluminum for the pan and up-cycled stainless steel for the handles.
Easy, convenient and great performance:
Anodized aluminium exterior and interior for extra hard surfaces.
The heavy gauge aluminium and the Thermolon™ interior provide perfect heat distribution, allowing even cooking and excellent browning without the risk of any hot spots.
The curved side walls and the wide pouring rims of the products will allow food to easily slide out of the pan.
Extra long handles with silicone sleeve for a stay cool and non-slip grip. The 3 rivets ensure a tight fixture to the pan.
Thanks to this Thermolon™ technology, the coating acts like an insulator that retains heat, moisture and flavors. These are sealed in and give you great results when preparing food.
I was sent a open chef's frying pan.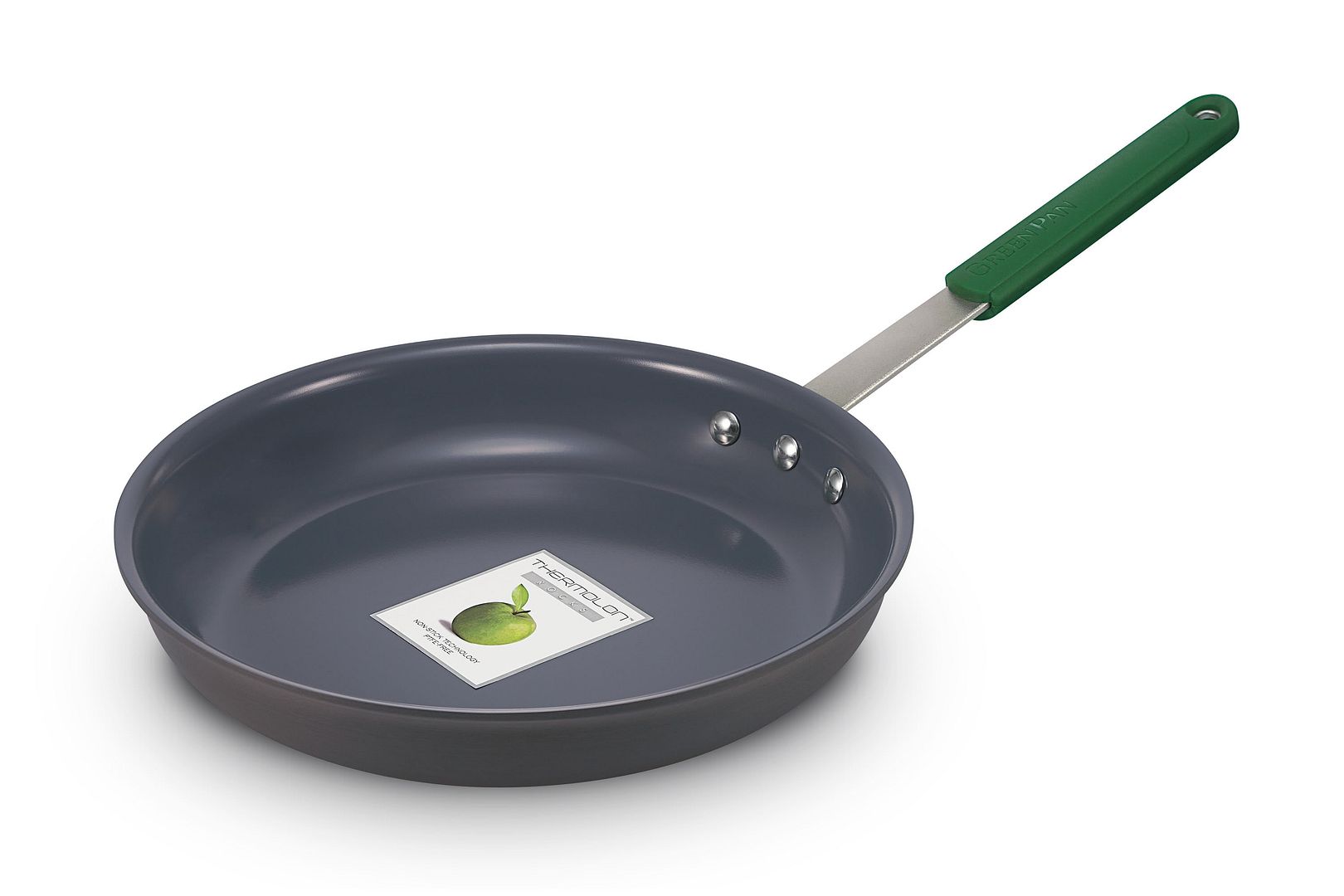 This pan is wonderful and I love that it's environmentally friendly and generally safe to cook my food with. If you like to cook your food on high temperatures, no problem! The coating of the pan will not peel or blister in any way. I cooked a small piece of grilled chicken in this pan and did not spray any non-stick cooking spray inside before cooking. I wanted to test out the special curved side walls that allow the food to easily slide out. The chicken easily slid out with no problems. Nothing was stuck on the bottom and the chicken did not break apart. I was impressed! I also love the large cooking surface this pan provides.
My chicken cooked evenly and perfectly and actually very quickly. The handle of the pan was easy to hold too while cooking. It did not get overly hot either and I was able to grip the handle perfectly. The pan is constructed very well and is of high quality. I love the green handle too, it gives the pan some personality.
Thanks to Green-Pan I've fallen in love with their products!